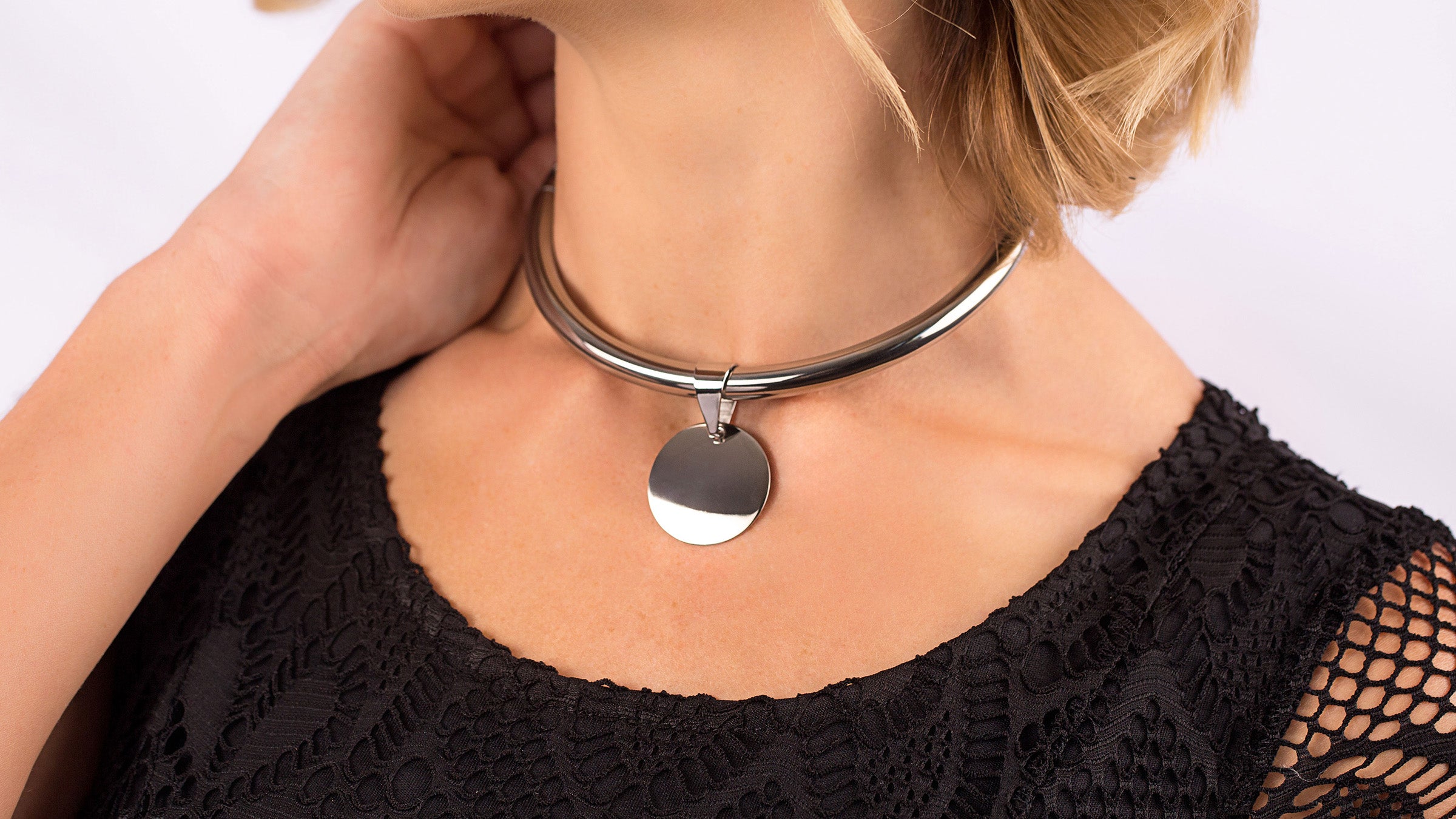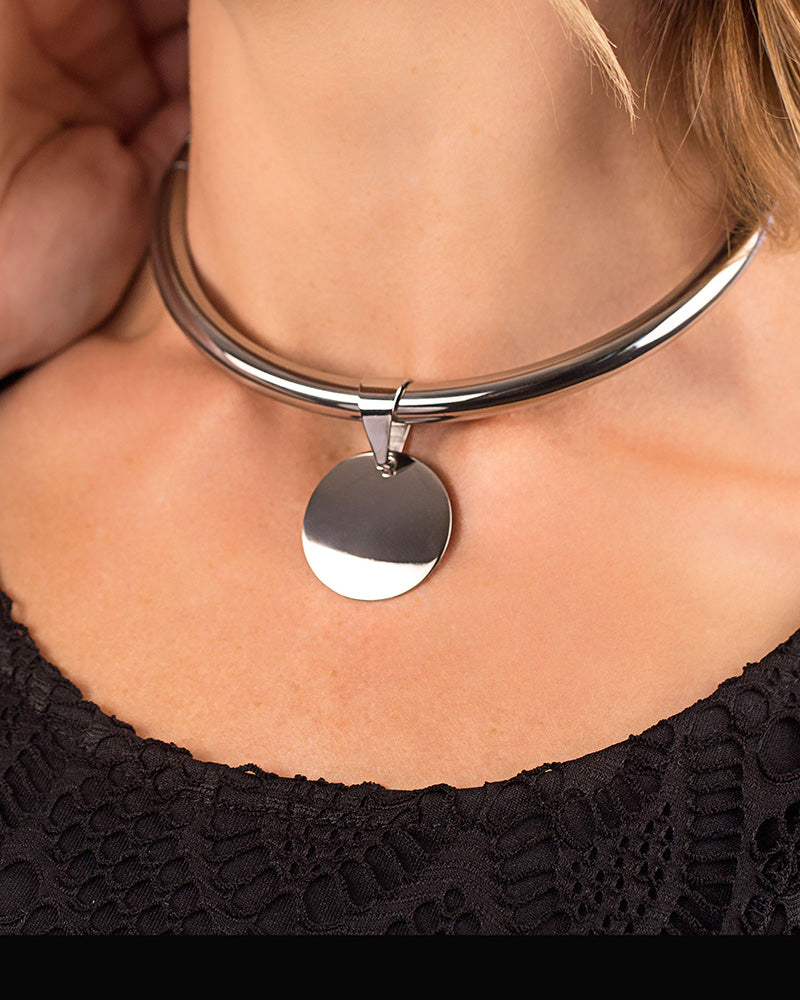 Exceptional quality, craftsmanship, and elegance
The Original Eternity Locking Metal Collars
Since our beginning in 2001, we've been creating the original Eternity Collar using high-quality materials and craftsmanship, with relentless attention to quality, comfort, and durability.
We understand the significance of collaring and we put exceptional thought and effort into creating products you can cherish and enjoy for a lifetime.
Whether you are wearing it simply for fashion, occasional play, or as a permanent symbol of your relationship, your Eternity piece will be there with you.
Let customers speak for us
Perfection
I've dreamed of having such a beautiful collar after I saw some of my close friends wear them. They all recommended Eternity and I understand why. My husband had me order one as my birthday gift and it arrived perfectly on the day of our 8th anniversary. It's was boxed in a lovely gift box inside discreet packaging. The shipping was super fast. My husband took me to where we got married and collared me. I absolutely love it and I am beyond honored as it's such a special gift. Thank you so much!
Eternity
better than expected
the collar arrived well packaged, more beautiful in person. discrete in design. perfect for everyday wear, my boy wore for a week in the tropics in ocean as well as pools and no issues. still as shiny and beautiful as new. Would highly recommend.
Eternity Cable Collar
Great collar
I love this collar so much. It's exactly what I wanted in an eternity collar. I love that it locks with a screw so not anyone can take it off and the color is so perfect.
Eternity Collar - Black
Amazing improvements
We purchased cuffs in 2015 and 2016. We love them and wear them every day. The only time they have been removed was because of medical procedures. My husband and I started having issues with the screw coming out. My husband was worse it was to the point where he had to check it several times a day because it would work itself out so far. I called to ask if the knew of something we could do to keep it from falling out and I was told it was under warranty. I was surprised. I can't think of anything I have purchased that stood by their product like this company.
While talking with the representative I told her that my cuffs were doing the same thong but I only had to check them every day or two and she said they would replace mine as well.
My husbands came in and the cuffs have changed. They used to have obvious lines where the joints were and looked industrial, not a bad look or any thing mind you but these new ones are sleek and elegant. I can't wait for mine to come in.
We have always told others to shop here. Now we have even more positive things to say.
BTW we are going to get the Prism cuffs for our 10 year anniversary.
Eternity Wrist Cuff
Sturdy and Beautiful
I'm very satisfied with this product! Compared with cuffs I've bought from other brands these are by far the highest quality. They're look great looking and are really strong. I really appreciate that they're lockable and have 3 d-rings for attachments. I also appreciated that there were different sizes as options! Most other brands I've seen offering thigh cuffs have a one-size-fits-all approach, which doesn't quite cut it for some of us. Love these cuffs!
Leather Thigh Cuff Set
An exceptional addition.
I recently purchased what appears to be a copycat of an eternity collar.
The fur and finish seemed good. However, after purchasing from the site directly, I see the difference from the package the cuff was shipped to the overall fit and finish of the item. There is no comparison to an authentic item purchased directly from Eternity Collars, so much so that I will replace the counterfeit with an actual titanium. Well, made. Fast shipping. Just impressive in all ways.
Eternity Wrist Cuff
Perfect
The fit was perfect, the size of the chain and bracelet itself was perfect. It arrived quickly, and was just about exactly what I was looking for. No large, gaudy looking decorations or embellishments.
Chain Bracelet with Locking Clasp
Service with a smile
Customer service here is top notch! The shipping is fast and product quality is great too. I found fitment to be a bit on the larger size, but that is compared to cheaper collars with the same listed measurements.
Eternity Collar
Excellent quality, worth the price
I bought this to see how it would hold up and so far it exceeds expectations. It came in a beautifully designed box with an elegant presentation inside. It was easy to close and the color matches well with any clothes. It is super lightweight and I can sometimes forget it is there. It poses no issues going throughout my day and is very resistant to whatever you throw at it. Full marks.
Eternity Wrist Cuff
Wonderful
It is exactly what I was looking for in a locking cuff! And the customer service portal is great! I needed a size replacement and it was all handled so fast with no fuss.
Eternity Wrist Cuff
Classic
This cuff is beautiful and i love the weight of it. I can't wait to get an anklet and collar to match next
Eternity Wrist Cuff
So beautiful!
I received this collar from my Daddy Dom as part of my bond with him. I love the feel of it. It's perfectly sized, lightweight, and soooo many colors! I'm never taking it off!
Eternity Collar
Fits perfectly and looks great
My slave wore this collar all weekend (titanium) and said it was very light and comfortable, but regardless a constant reminder of her place. The collar looks like a high-end choker and she felt comfortable wearing it in public. Very satisfied!
Eternity Collar
A wonderful chain
I bought one for my wife in the gold finish. It has been worn permanently since she first put it on. Very well made great material.
Thank you
Chain Anklet with Locking Clasp
Eternity collar 💞
The customer service was amazing, I needed my shipping address corrected and the key were very helpful. My pet loves her new collar!!!
Eternity Collar